The Consumer Centric Solutions Approach to Segmentation

Although each study that CCS conducts is customized around the specific issues, objectives and scope of the client's business, each study provides:

1. Vivid, evocative and reachable marketing targets.
2. New insights for leveraging brands, products and services to the needs of respective targets.
3. A "Strategic Framework Map" that pictorially aligns potential targets with market strategies
4. A estimate of the relative magnitude of opportunity for each resulting strategy.
5. A process for institutionalizing study findings within in the client's organization to
insure it becomes a dynamic tool for brand growth.


Adding Further Richness to Segmentation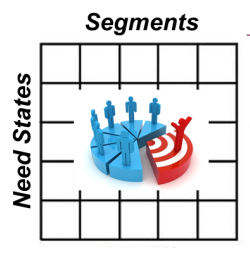 Consumer/customer choice is a function of two dimensions:

1. Who a person is - their attitudes, experiences, beliefs, lifestyles and
demographics.
2. The situations surrounding specific product usage occasions and
the needs perceived at the moment.

These two dimensions can be expressed in Consumer Segments and Need States, and when they are combined result in a fully integrated understanding of who to target and how to engineer solutions to their needs.






---